Services
Da Vinci Stucco Designs offers a full range of services to meet your specific residential or commercial needs and budget.  We work directly with home owners or home builders with the same level of attention to service and quality.
Custom work
Accent mouldings (interior / exterior)
Window trims and cornices
Qualified EFIS (Exterior Finish Installation System)
PUCCS System Installation
Stucco Plus For Block or Brick Wall Construction
Stucco painting
Stone and brick designs
Exterior designs
Acrylic or traditional finish
DuRock material finishing coat provided
Available Options include:
InsulROCK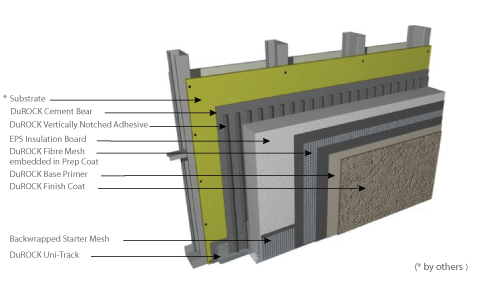 InsulROCK EIFS has been evaluated by CCMC for compliance to the Technical Guide for EIFS. This system is certified for use on buildings required to be of non-combustible construction and on buildings over three storeys in height in accordance with the fire resistance requirements of the model building code.
InsulROCK EIFS may incorporate Polar Bear, Vapour Block, or Cement Bear as the moisture barrier. For clarity of illustration, all details show Cement Bear only.
Puccs One-step Barrier/Adhesive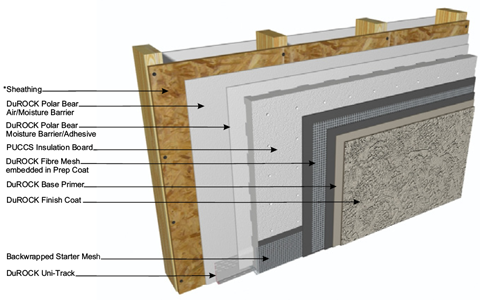 PUCCS EIFS is the first EIF System in Canada to be evaluated by CCMC for use over wood substrates. PUCCS EIFS for Low Rise Residential Construction includes DuROCK's patented, circular, geometrically-defined drainage cavity used in conjunction with DuROCK's Polar Bear air and moisture barrier.
This system is intended for use on wood-sheathed walls where the model building code permits combustible cladding.
Stucco Plus for Brick/Wall Facades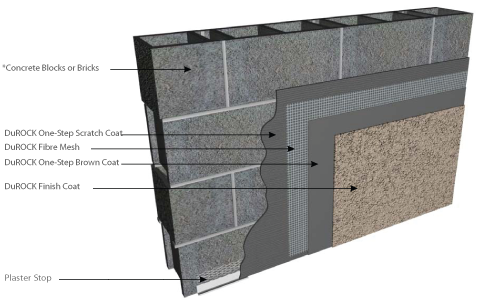 DuROCK Stucco Plus incorporates a polymer-enhanced, fibre-reinforced base coat for superior adhesive and cohesive strength, as well as a polymer-based finish which is available in a variety of textures and infinite colors.

Copyright 2013 Da Vinci Stucco Designs Inc.